Yesterday, there was a reception at City Hall, hosted by Mike O'Brien. This reception was to highlight the issue of affordable housing. In total, there were approximately 125 people there to mingle and hear brief presentations from Francine DiMambro, from the CMHC, Fredericton Mayor Brad Woodside, Fredericton Fort Nashwaak MLA Pam Lynch and Tim Ross, coordinator of the Community Action Group on Homelessness (CAGH).
Mike O'Brien is City Councillor for Ward 3 and chair of the Affordable Housing Committee. This event was held in connection to Affordable Housing Week, but made even more poignant by the Carleton St fire this past Thanksgiving that saw the Isaac's Way building being completely devastated by fire. This fire left 26 people out in the cold, in terms of their housing. The building hosted Isaac's Way restaurant on the ground floor and a room house in the rest of the building.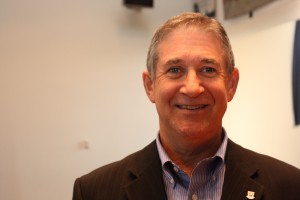 Mayor Woodside highlighted some things that the city of Fredericton are prepared to do.  He spoke of changes to the zoning by-law in draft form. The main change would be in include a provision for density bonus. Keep watching City Hall for this. Another idea the city would like to be able to implement is Inclusionary Zoning, which would require legislative changes at the provincial level.
MLA Lynch was representing the Minister of Social Development, Madeline Dube. She referenced the Poverty Reduction Program and the Affordable Rental Housing Program as ways the province is working to provide affordable housing to the people of the province. She mentioned a provincial funding match to the federal government that has added 46 million combined for affordable housing in New Brunswick. For Fredericton in particular, this would mean 34 new affordable housing units.
Tim Ross, of CAGH, spoke of the fact that 300,000 Canadians experience homelessness annually. He spoke of the Isaac's Way fire as an event that has galvanized the community. He spoke of history, in particular the Carleton St fire of 1850 that saw most of downtown Fredericton destroyed. In City Hall, there is a tapestry that reflects this history.
Tim showed a video calling on the people of Fredericton to make a downpayment to end homelessness in Fredericton. Watch the video here:
Go to crowdfundchoice.ca to support the campaign to develop Housing First in Fredericton.